Unattended Access
Reducing lead-time, eliminating back orders and consolidating inventory can be accomplished by having a Cardinal vault installed on your premises. Inventory can be moved quickly between branch locations or from your distribution centre, your suppliers and even your customers, on a prepaid collect or third party basis. Items placed in your secure vault at the end of the day are picked up by Cardinal and delivered to the recipient's vault the next morning. Our commitment is "Pre 8 am" and we believe that we have the highest "on time" delivery rate in the industry.
Vaults - Cardinal's vaults are available in three sizes, and can handle shipments of up to 70 - lbs. per piece. The vaults are heavy 11-gauge steel with weather resistant seals and secure locks. Cardinal charges a $25.00 vault maintenance fee per month.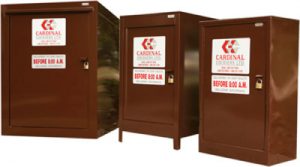 | | | | |
| --- | --- | --- | --- |
| Vault# | Height | Width | Depth |
| 5 | 48 inches | 30 inches | 18 inches |
| 6 | 48 inches | 30 inches | 30 inches |
| 8 | 60 inches | 46 inches | 34 inches |
Key Access Service - With key access to a customer facility, Cardinal can provide pre-8am service to clients who regularly ship or receive items too large for a vault. High volume shippers and receivers of stock transfers, skid freight, and stock deliveries from warehouse distributors would benefit from this service.
Non-Vault Pick-up/Delivery - Next day delivery is a service available to clients not using either of our vault or key access systems. Shipments are handled during regular business hours, with pickup in the afternoon and delivery the next day.